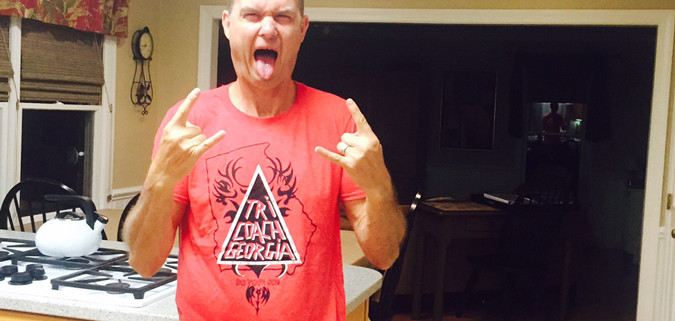 Introduction
We have a relatively newer athlete from Raleigh, North Carolina area who goes by the nickname of Phantom. Scott Whalen stays below the radar and gets the training done with a busy job and active family. He's a veteran of the long course game and approached Coach Slayer several times over the years to discuss various triathlon concepts finally pulling the trigger on coaching services in 2016 for A races of Ironman Augusta and Ironman North Carolina 70.3. He's also raced Lake Logan International Distance and Ironman Chattanooga 70.3 this year. Phantom has been rocking along with the new coaching approach and feeling happy, building momentum, and showing renewed confidence. He had a much slower race in Augusta this year than previous years but was happier than ever. Read why below:
The Phantom Speaks
Hey guys I am new to the team and a lot of you may not really know me yet.  Coach Slayer took me on as an athlete in June of this year and I completed my first big race under him last weekend at Augusta 70.3.  It was my 4th time racing that course and my previous best time was 5 hr 10 min.  I had a goal of breaking 5 hrs this year and came into the weeks leading into the race feeling confident I could do that or at least break 5 hr 10 min.
Race Conditions Soured
As you all know, as race day got closer, it looked like the weather may be less than ideal for racing or getting a personal record (PR) but I was still hopeful. However, the day before it was clear it was going to be brutally hot so Coach Slayer and I decided to revise our game plan for the day to adapt to the things we couldn't control.
Then on race morning it was non-wetsuit legal for the first time ever which for me was not ideal since swimming is my weakest discipline. But, hey, you can only control what you can control that day was doing my job with the conditions at hand.
We Adjusted
We decided to toss out our pacing goal on the run and go by feel as well as walking the aid stations to hydrate and get ice (I usually don't walk aid stations).  He told me that if I keep moving that I will pass a lot of people that will be walking like Zombies and I will continue to move up despite what is likely to be a slower pace on my run.
I followed the revised plan to adjust my race pace to the conditions and my expectations for a certain time accordingly. As usual, Coach Slayer was right and I continually climbed up in the rankings all day from 137th on the swim to 70th off the bike to 31st after the run.
How It Ended Up
So did I PR?  No on the overall race time but the answer to me was an unequivocal Yes! It was my highest placement in an Ironman branded event by over 15 positions on my fastest time and 36 positions over Ironman Chattanooga 70.3 in May this year.
The moral is that it is not always about race paces or overall time but rather how you compete against other age group athletes, how you express your coaching or wisdom, and how you perform in the conditions and the day you were given.  I could have been devastated that I missed my time goal by 25 minutes but instead I am stoked to have done so well on that course, under those conditions on that day!  Thanks again to all the TriCoachGeorgia athletes, Sherpas, and coaches and especially to Coach Slayer as you all are a true inspiration and motivation to me.
https://tricoachgeorgia.com/wp-content/uploads/2016/10/Your-Race-Pace-Lies-the-Phantom-Speaks-TriCoachGeorgia-01.jpg
900
675
Slayer
https://tricoachgeorgia.com/wp-content/uploads/2015/04/logo-300x138.png
Slayer
2016-10-10 12:07:01
2020-10-26 10:07:43
Your Race Pace Lies – the Phantom Speaks – TriCoachGeorgia