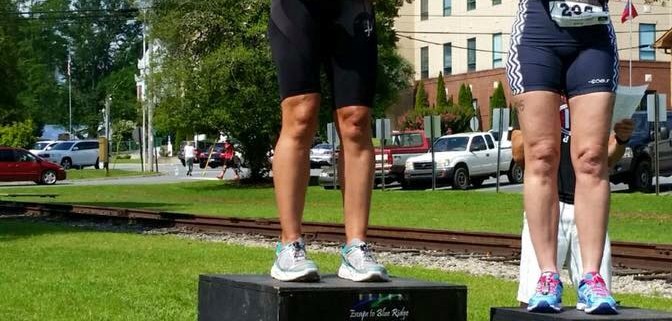 As our famed Augusta 70.3 training camp directed by Coach Spartacus approaches, the fun never ceases in the land of the Reapers! Racing is thinner in the hotter areas but still carries on throughout the month of July.
Training is getting serious as a heart attack for many of the team facing huge races in August, September and October. Coaches Spartacus, Slayer, BigBad, and KimPossible are going the extra miles to get their athletes ready to rock!
On July 19th in Bolton, United Kingdom, Gator aka Chris Keysor took on the Ironman UK as a destination race and his first and perhaps only 140.6 distance race. Along with Gator's dedicated and loving family and 1000's of spectators, Coach Slayer and DocSlay aka Julie Gayer were there in support. Coach Slayer could not race due to his injuries from the April bike wreck but was honored to be on course for his athlete and good buddy.
Gator trained very hard for the race, executed his race plan perfectly, and it showed as he banged out a top age group result on a beautiful, albeit very rigorous, course under very challenging conditions. Many of his supporters followed along closely from home. The pictures tell the story and now he moves on to his A race of Ironman Augusta 70.3 in great shape!
Meanwhile, back in Georgia, the TriKidsGeorgia just kept hitting it hard in their training and racing. They travel the world and still find time to get sessions in. Even the adults have found time to travel long distances to train together.
On the youth side, Simon crushed the Georgia State Swim Meet. We also had Freeman take 2nd place in age 6-7 and Jack achieved 3rd in age 8-9 at Chopped Oak Youth Triathlon in Clarkesville Georgia. This was a great showing for the boys there and these races are always a fan favorite!
Also, TriKidGeorgia Keaton joined the crew to train with his teammates in Athens from his home in Atlanta. It paid off as he was back on the top of the sprint triathlon podium in Jacksonville, Florida at the Jacksonville Tri Series. He was joined by HOSS aka Bradley Odom, who raced and made the podium for the olympic distance and who battles through some trying times at work but still manages to do good racing!
EMANBOOM aka Esteven Price and All3Eedee took on Tri the Parks Mistletoe Sprint Tri. All3Eedee represented our affiliate www.All3Sports.com well with a 2nd in AG and EMANBOOM took out his new bike and burned it up on the hilly course with a mixed terrain run. He took 3rd in a stacked Male Masters.
Special shout out to Katie Fredo, BreakingBad's girl, who crushed her 1st triathlon ever with the help of Coach Spartacus' free training plan. Let him know if you want it as well.
Gruesome aka Dr. Lisa Harrigan showed up on the age group podium in the First Capital Sprint Triathlon in Guthrie, Oklahoma. The race, at Guthrie Lake in Historic Guthrie, consisted of a 500 meter open water swim, 12.6 mile bike, and 5k run. Now, she moves on to an even longer distance triathlon.
Down in the land of the Hargroves, Columbus, Georgia described by TriColumbus as the "mecca of triathlon", Tom Hargrove repped the Reapers proudly at the Chattahoochie Challenge Sprint Triathlon.
Rolling Thunder aka Troy Garland and Virginia Brooks got back to their racing roots and took on the Escape to Blue Ridge Tri the Mountain. This was an incredibly scenic sprint triathlon race in the North GA Mountains. The swim was in the crystal clear waters of Lake Blue Ridge. The bike was an 18 mile out and back crossing over the lake with mountains towering in the background. The run left the Marina and headed towards town on Old Highway 76 and he was cheered on as he entered the Historic town of Blue Ridge ending in front of the Gazebo with the band "Playing On The Planet" rocking as he ran past the finish line. Both performed admirably and Virginia grabbed a top spot on the age group podium sporting her Reaper kit!
Finally, Coach Cube aka Fred Meher of our friend firm, TriCoachFlorida.com brought the heat and felt the burn as he raced the next in the MultiRace Mack Cycle Triathlon/Duathlon Trilogy Series. Many of you know this is the the oldest triathlon series in South Florida. Cube has been stellar fighting through the elements this year in spite of big changes in his life including moving houses, building his coaching firm, and working hard, and his results were strong again. He proudly took 2nd in age group.
With July soon in the books, the team will soon focus on the big month of August where many will join together at the Augusta 70.3 half ironman training camp on August 7th to 9th. This will include the Gatorfest and the Ride for a Reason. Many are racing the Tri to Beat Cancer in Athens, Georgia later in August and this will serve as another important team event.
As you can see, the team is busy and happy. If they aren't racing they are training. And if they aren't training they are hanging out and laughing together. Hope you can join us. Thanks again for following along. We will look forward to seeing you soon perhaps at one of our free open water sessions, a triathlon clinic, or training camp!
https://tricoachgeorgia.com/wp-content/uploads/2015/07/The-Training-Racing-Never-Stops-TriCoachGeorgia-12.jpg
960
672
Slayer
https://tricoachgeorgia.com/wp-content/uploads/2015/04/logo-300x138.png
Slayer
2015-07-28 17:14:25
2020-10-26 10:07:48
The Training & Racing Never Stops – TriCoachGeorgia