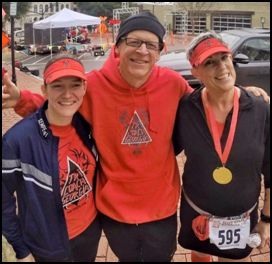 INTRODUCTION
It's been a big few weeks for TriCoachGeorgia as they've seen increases in coaching staff and new athletes, as well as high participation in several early in 2016 events. Everyone's training is getting into full swing and the entire TCGa crew is kicking major butt in the USAT National Challenge Competition. The team sits at 4th overall in the NATION!
This past weekend was very busy. The team took on Run The Hogpen, Red Nose Half Marathon, Disney's Dopey Challenge, and there was a local TriKidsGeorgia 5k race in Oconee at Veterans Park.
RUN THE HOGPEN
Riding up Hogpen Gap on a bike is brutal enough with grades of up to 14%, so imagine running it! TCGa's own Missy Dobbins Hatchett aka S'later was up for the challenge and tackled this beast of a run in less than favorable conditions.
RED NOSE HALF MARATHON
Hosted by the Columbus RoadRunners, this annual event in early January is held in Columbus, Ga where the Southside TCGa team is growing. It's a perfect race to kick start your season, and to add an even bigger bonus…IT'S FREE! This year due to the huge rise and overflow of the Chattahoochie aka the "Hooch" the course was wet and slippery but nonetheless still flat and fast.
There was a huge team turnout this year which included coaches, current team members, and some of our new additions. Athletes came in from Atlanta, Greenville, SC, Athens, and Milledgeville to hit the course and the town. Outstanding performances were offered by everyone, including some podiums and PR's. There was no quit in this group, and lots of camaraderie, seeing old friends, and making new ones.
DISNEY DOPEY CHALLENGE
The most magical place on earth just got more challenging. Don't let the name and location fool you. This race is no joke. It's a 4 day run event that includes a 5k, 10k, Half Marathon, and Full Marathon on consecutive days. Every year the team seems to have some participants and this year was no different. Great performances were had by TCGa athletes Kevin Mills, Wayne Taylor, and Dathan Duplichen in this early season multi-day event.
LOCAL ROAD RACES
TriCoachGeorgia and TriKidsGeorgia also had some under the radar races this weekend. Most notably TriKids David Andrew and Caroline Duncan hit the Oconee Veterans Park for the 6th annual Pilot Chase 5k and both took home high placings despite far from ideal conditions.
Also, the Trikids were also treated to a talk from Kyle and Brent Pease of the Walking with K Peasy Foundation, which will be blogged about very soon. Suffice to say, that the talk was very inspirational.
FINAL THOUGHTS
The Reapers are off to a great start. They are forming up, working hard, and showing no quit. The misfits all seem to fit together rather well already. New and existing Training Camps and details are out on Facebook and being shared and passed around by many.
The athletes of TCGA and TriKidsGeorgia inspire many, especially their coaches, families and friends. Are you ready to meet and hang out with some great people and have your best season ever? Then we hope you'll come join up with us at TriCoachGeorgia. https://tricoachgeorgia.com/
https://tricoachgeorgia.com/wp-content/uploads/2016/01/Start-It-Up-TriCoachGeorgia-02.jpg
264
272
Slayer
https://tricoachgeorgia.com/wp-content/uploads/2015/04/logo-300x138.png
Slayer
2016-01-14 15:24:49
2020-10-26 10:07:45
Start It Up – TriCoachGeorgia