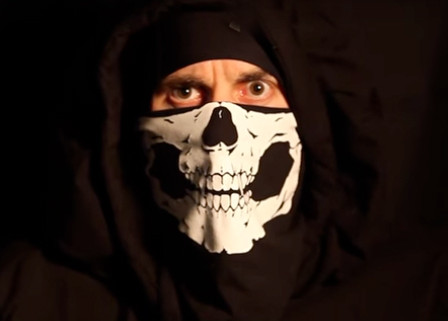 This weekend was supposed to be an easier one for many in the USA. However, Labor Day turned into Slaybor Day and a little idea born on the track during a Coach Slayer and TaxSlayer long run, grew to huge proportions.
Check out the awesome Viper aka Steve Smith video if you haven't already. In this fresh new Slaybor Day Challenge (along with a video here) for everyone regardless of team or other affiliations was invited to knock this brick out over Labor Day. The results, as they unfolded, and afterward were simply astounding. The team will be awarding a $66.6 from all3sports.com to one of the participants once the data is all counted.
However, although all participants dug very deep to get their challenges done in some form or fashion usually over the amount required, one person in particular took things up a notch and added 2 more levels to the original challenge. Terminator aka Dr. Dick Thompson showed his grit and determination for Ironman Louisville this year with his astounding training days, that he dedicated to the leader of the #WeFinishTogether movement, Kim Garrard Stemple, daughter of our Judas Priest aka Judith Garrard. (A whole other blog on this cause is currently in production). Terminator actually finished the challenge at Level III which was more than a full ironman across disciplines!
Meanwhile the youth squad was in the throes of their early season football and cross county training and racing. Huge performances were put on by Caroline, Ellie, Ben, Amy, for their respective schools, Oconee Middle, North Oconee High School, and Malcolm Bridge Middle School. Every TriKidGeorgia is performing well and they still find time to practice multisports twice a week.
Practice led to great results at the Sugar Creek Youth triathlon in South Carolina for several of the youth team members. We had first timers, podium winners, and generally great performances! As can be seen from the pictures online, the TriKidsGeorgia just get it right. Congrats to Carter, Simon, David Andrew and Caroline, and Jake among the many other kids who rocked it out! Now the team turns to Hot Dam Sprint and Ironkids Alpharetta.
Close friend of the team David Eckles joined Rolling Thunder aka Troy Garland this weekend for a local favorite, the Butterfly Dreams 5k. RT was back on the podium. This race supports Butterfly Farms in Watkinsville, Ga where they serve the community with hippotherapy and honor a young child who died with health complications.
Up in New Jersey, after a long flight from Oklahoma traveling to her old home town of Holmdel, Gruesome aka Lisa Harrigan hit up the Walk in the Park 5k with her daughter Gracie. This was a rousing performance more so for the memories it stoked and forged than for the results per se. You see, the Walk in the Park women's 5K took place on Gruesome's old high school cross country field!
Over at gorgeous Callaway Gardens, Coach KimPossible sent first time triathlete and new team member Abby to the Callaway Olympic Triathlon. Abby didn't have much time to cherish the beauty of the Gardens as she was too busy doing her job, and landed a podium in her first race ever! One can see the look of pride clearly on her face.
Finally, the team was stoked to see Kim and Martin M. as well as Xena aka Gina Farrell and Hoss aka Bradley Odom out at the Savannah Century September 6. Not only did these team members fight off some mechanical issues to go long. Some found it in them to run off the bikes after huge bike days setting them up nicely for their late season races.
All told, this week was huge! The team keeps going and growing and we have results and smiles to prove it. Inquire about how you can join them moving forward so your 2016 will be as fun as their 2015 is.
Final notes: It's the final chance to get points in the Georgia Triathlon Series. Hope to see you at the HotDam Races for Go Race Productions this weekend. There are other races too like the Diva's Half Marathon, John Tanner 2 Sprint Triathlon, and Tugaloo Olympic distance, that the team will be representing at.
https://tricoachgeorgia.com/wp-content/uploads/2015/09/Slaybor-Day-Weekend-TriCoachGeorgia-01.jpg
448
448
Slayer
https://tricoachgeorgia.com/wp-content/uploads/2015/04/logo-300x138.png
Slayer
2015-09-08 11:37:48
2020-10-26 10:07:47
Slaybor Day Weekend – TriCoachGeorgia