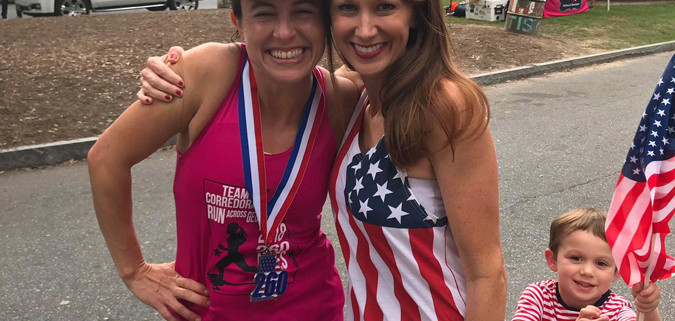 I ( Coach Angel K of TriCoachGeorgia )joined an 8 person relay team to run 260 miles of backroads from Savannah to Columbus over 37 hours without stopping – Run Across Georgia. I ran about 29 miles in 6 legs of varying length (between 3.1 and 7.5 miles each for me). I think a combination of sleep deprivation and physical exhaustion puts you in this strange frame of mind where emotion and your senses are heightened. I ran through Claxton where mom and dad came to see me and it meant so much. I ran down dark highways into small towns. One town was having a big party at their municipal building with music and fireworks. A young guy ran along side me for a minute to ask where I was running and offer me a can of beer. I ran at 2am past farms where the only sounds were the frogs, whip-poor-wills and my feet hitting the ground. The smell of night jasmine came in waves. At one point either car lights hit them just right, or electricity acts in ways I hadn't considered, but the powerlines overhead glittered in a row like shooting stars.
I rode in the back of a truck sometimes and watched the pecan groves and cornfields roll by. Sometimes I sat back there with new friends and laughed, sometimes I just soaked in the scenery. One morning I sat there as the sun was rising over a pristine farm field while a flock of white birds flew into the air. I became almost overwhelmed with the beauty of it.
The running got hard sometimes but each person on our team was really dedicated to racing as best we could. I think everyone nailed almost all of their paces. We had an equally dedicated support crew who made sure everyone was where they were supposed to be at all times and had everything that they needed. We cheered for other teams and had fun with all of them while we waited for our runners together.
As I ran my last leg into Columbus (the only one that wound up being scary due to traffic) I saw Eddie and the kids drive by cheering with big signs they made for me in the windows. I ran across the bridge with the huge statues and flags that mark the entrance to Fort Benning. It seemed very fitting since this was Memorial Day weekend and this race is in part a tribute to the soldiers who gave everything for their country by being an important fundraiser for House of Heroes. My family was waiting for me at the checkpoint. I hugged my sweet kids who were smiling and hugging me back so tightly and Eddie who had worked really hard to find me in the right spot.
Our team met up and ran all together to the finish line on Broadway. My friends and family were waiting for me. I have felt loved and supported by my running/triathlon community for some time and this felt like an incredible celebration of that. We hugged each other and couldn't stop smiling.
I fell a little more in love with the country and all the people around me. We raised a ton of money for 2 great charities in town. And when I came home to Columbus, I've really never felt more at home.
Coach's Training Considerations
My overall average pace for this event was a little over 8 min/mile, which is roughly my half marathon pace. Had I not been still somewhat recovering from Ironman 70.3 Gulf Coast 2 weeks prior, I would have targeted a pace in between half marathon and 10k since you do get significant periods of rest in between legs. Walking a little and stretching/foam rolling after completing each leg kept my muscles from getting stiff and helped prevent injury. Fueling can be tricky for those with sensitive stomachs, since in a race this long you need at least a few actual meals. As a big believer in "training your stomach" I brought along the fuel that I use for ALL of my long runs (currently Clif bloks) and drank Gatorade each mile on the course. I did consume caffeine, but no more than I would on a typical race day. I ate a few sandwiches, popcorn (and pretty much anything else I could get my hands on) in between runs and had no GI issues.
I did not do any real race-specific training for this event. I stuck to my triathlon training for Gulf Coast. A key product of any good triathlon training program is the ability to run on tired legs. For non-triathletes, building some 2-a-day runs into your plan is a common way to achieve this. Some people try to train for the fatigue aspect of this event by getting up in the middle of the night to run. While not a bad idea, I also don't think it's necessary. You can't fully predict how your body will respond, taking into consideration factors such as adrenaline, effective fueling, heat, etc.
I would recommend this type of relay race to any serious runner who would like a little variety on their race schedule. I really enjoyed the team aspect of it and found it to be a most interesting challenge- part endurance race, part adventure quest.
https://tricoachgeorgia.com/wp-content/uploads/2018/06/Run-Across-Georgia-A-Race-Report-Diary-by-Coach-Angel-K-TriCoachGeorgia-01.jpg
900
675
Slayer
https://tricoachgeorgia.com/wp-content/uploads/2015/04/logo-300x138.png
Slayer
2018-06-02 19:09:57
2020-10-26 10:07:41
Run Across Georgia – A Race Report Diary by Coach Angel K – TriCoachGeorgia