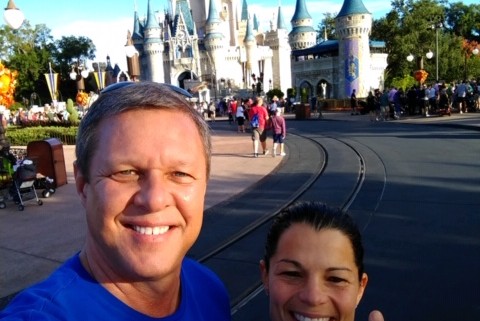 I thought this year would be the year for me to work up the age group placements at the half ironman distance. I set my schedule up for four maybe 5 of them. It all started in California in December of 2018. However, things changed for me there on the first one of those races.
The Ironman 70.3 at Indian Wells was a blessing, a realization, and a turning point for me. It's always important to me to stay wide open to my life experiences and to listen to my heart and soul. I consistently try to work on being flexible with all things that come my way in life.  And Indian Wells and life had some curveballs for me that day last month.
Although I had a PR and had a lovely time out in Palm Springs, I realized the weeks surrounding the race and coming through that coveted finish line taught me many lessons. Most importantly, the race forced me to take a look at where I am, where I want to be and what my goals will be for 2019. I decided my original plan wasn't right anymore. I figured it would be good to get that out there to show others they aren't alone if they wanted to forego long course racing for a year or forever!
I'm putting Ironman on the shelf for now. Life for me now is all about striving for balance. I "do triathlon" for FUN and sometimes I lose sight of that.  However, that doesn't mean I had to give up triathlon. It just meant a change was in order, and that change was not going to be things I valued. I love training, my team, my coach. So they are staying.  I love having challenges/goals. I found ones that are more in line with my current needs.
I am grateful for support systems and being healthy. But, life was getting out of whack.  I needed to rest, assess and act. After my recent experiences, long thought and great talks with my husband Tommy and my coach, I realized Ironman doesn't define me and it absolutely OK to take a step back and still have a fun, successful and great year of triathlon (short course) and running races. My calendar includes olympic distance triathlons as the feature races, with a sprint distance triathlon here and there. And, for good measure, I am including my favorite and fun trail and road races. If something else pops up, I am open to it too!
Now, anxiety will dissipate, goals are set, working with Coach Slayer and training will continue and Family, Work, Grad School, etc will balance out. Most importantly, I will have fun and still be a part of this great team to support everyone and hopefully race together in some of these events.
I am psyched up about 2019! I am at ease with my decisions.  I will continue to listen to my soul and try to avoid Crossfit. That shit kills my body LOL. Anyhow, if you have a similar dilemma I hope you too will have courage to put Ironman on the shelf for as long as is needed. Thanks for reading and best wishes to y'all!
https://tricoachgeorgia.com/wp-content/uploads/2019/01/Rest-Assess-and-Act-Ironman-goes-on-the-Shelf-by-S'later-aka-Missy-Hatchett-TriCoachGeorgia-01.jpeg
640
480
Slayer
https://tricoachgeorgia.com/wp-content/uploads/2015/04/logo-300x138.png
Slayer
2019-01-05 12:41:03
2020-10-26 10:07:41
Rest, Assess, and Act: Ironman goes on the Shelf – by S'later aka Missy Hatchett – TriCoachGeorgia