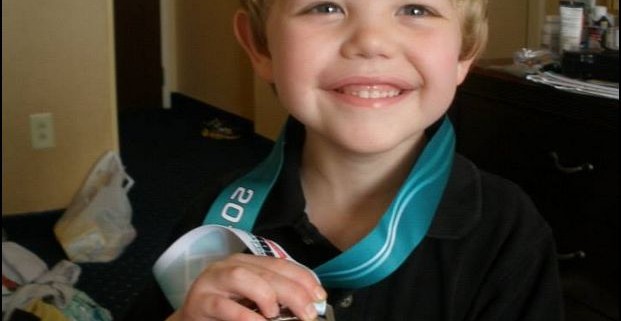 TriCoachGeorgia (TCGa) & Community pulls together for Tagg
On June 2, Amy Burton Peavy Smith aka Ironmouse posted an update on Facebook about her son and his condition. Her and Steve Smith aka Viper's son, Taggert, had just undergone another surgery to help him breathe. He has had nearly 50 surgeries in his five or six years alive. Amy posted that, before Tagg went back for his surgical procedure, he had asked if they could go to Disney World when he was released from the hospital. Amy posted on Facebook that with all of the expenses and her need to purchase a new car that a trip this year would not be possible.
Lester Benitez aka Speedy Gonzalez, one of her teammates, saw the post and contacted other TCGa teammates. Toni Corley, the better half to Paul Corley aka IronClyde, created a Go Fund Me account with the goal of raising $2000 for the family. The group discussed a secret Facebook page to use as a place for people to go to donate money. Toni set up the Send Tagg to Disney page and added the Go Fund Me Account. The group started adding friends and family of the Smith's.
Donations started rolling in. After about 3 hours, the fund had close to $2000. The group decided to raise the goal to $5000. The $5000 number was surpassed on June 3. The group decided that they had to tell the Smith family about the fund. As the fund got larger, the secret was going to get harder to keep.
Harvey Gayer aka Coach Slayer and Seth Waltman aka TaxSlayer went over to the family's house at 5:30pm. Amy and Tagg had only been home for about an hour when they arrived. Seth had decided to create a letter from Mickey Mouse telling Tagg that he and his family were coming to Disney World. Tagg opened the gifts, but did not really understand what was happening. He was tired and on medications to help his breathing.
Seth showed Amy and Steve what had been done for the family. As Seth scrolled through the Facebook page, Amy and Steve started to understand what had been done for their family. On the final page that Seth showed them, Amy and Steve saw the amount of money that had been raised. At the time of this writing, the fund has over $7000 in it.
The family is going on an all-expense paid trip to Disney and there is a lot left over to pay for medical expenses associated with Tagg's ongoing care. A hashtag #TeamTagg has been launched. The Smiths were overwhelmed with the generosity of everyone. All who contributed felt very good in the end. It was a true community effort. The team was very thankful as well. More importantly, Tagg gets his wish come true to hold him through more dark times that are coming medically.
https://tricoachgeorgia.com/wp-content/uploads/2015/06/Team-Tagg-TriCoachGeorgia-02.jpg
574
621
Slayer
https://tricoachgeorgia.com/wp-content/uploads/2015/04/logo-300x138.png
Slayer
2015-06-11 13:50:13
2020-10-26 10:07:49
Pulling together to fulfill a child with special needs' wish – TriCoachGeorgia