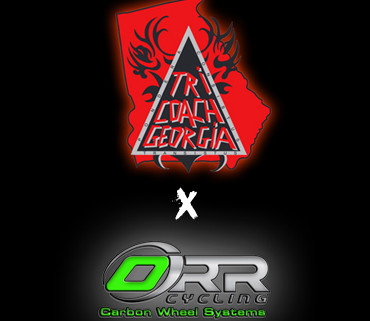 Introduction
At TriCoachGeorgia (TCGA), the team is proud to affiliate with high quality local, regional, and national brands. TCGA was familiar with ORR Carbon Wheels and their managing owner, Jason Williamson, as they both sponsored the Georgia Triathlon Series of Go Race Productions. At the end of the 2015 racing season, Williamson reached out to the TriCoachGeorgia Coaching staff to form a partnership that will benefit all team members and coached athletes with a huge discount on ORR Wheels and will benefit ORR Wheels with great exposure. Not to mention, many of the team of misfits already sported these wheels.
Going to the Big Island
Coaches Slayer and TAZ are already on record that they will be using ORR wheels as their weapons of choice in Ironman World Championships in KONA 2016.  Williamson says he rarely has seen anyone more passionate about the sport than the Reapers of TriCoachGeorgia and was kind enough to discuss some of his firm's history, products, and answer some questions about his high quality carbon wheels without the high price tags of competitors like Zipp, ENVE, Hed, Reynolds, Profile Design etc. The firm's motto is "Exceptional Speed For Everyday Riders".
Cost Savings without Substantial Speed Differential
Williamson grants that the big names make great products but stresses the cost of $2.5k-$4k plus compared to ORR's at $1500 and below. There is not a marked difference for most riders in the wheels reported. ORR Wheels are committed to offer wheels that durable enough for everyday use, affordable, and fast enough to take bike splits to the next level. They don't pretend to be something they are not. They stand behind their products and have recently had them aero wind tunnel tested in Arizona. This data was favorable and will be released soon!
Some Additional Information
Not a firm to stand still in one place, they are currently working on a few new wheels for 2016 and beyond. First, they have a newly designed disc wheel, which will be stronger, wider and lighter than their previous disc. Next, they are looking at disc break options for road wheels/cyclocross and, even, mountain bike wheels.
Lastly, they are working on a shallower depth. A 36mm rim option that we hope to offer with the disc brake option as well as the standard road hub. This combined with their 6.4 (60mm), 7.4 (60/80mm) and 8.4's (80mm) should round out their lineup of carbon clincher wheels. With wider rims, better air foil designs and their biggest improvement, the new extreme high Tg (melting point) resin, they beliuved they have covered all possibilities including wheels for a triathlon, road, or mountain bike.
Final Notes
The current team members and coached athletes of TriCoachGeorgia and TriKidsGeorgia can receive up to $500 off the retail prices on a set of ORR's. Just ask Coach Slayer or TAZ for the discount code to use at checkout on ORRCYCLING.COM, call them direct at 864-276-6797 or come by their booth at one of the many Ironman Village Expos.
Tentative 2016 race schedule:
Some local races in and around SC/GA as well.
https://tricoachgeorgia.com/wp-content/uploads/2016/01/ORR-Carbon-Wheels-Welcomed-as-Proud-New-Sponsor-of-TriCoachGeorgia-01.jpg
400
370
Slayer
https://tricoachgeorgia.com/wp-content/uploads/2015/04/logo-300x138.png
Slayer
2016-01-21 15:49:51
2020-10-26 10:07:45
ORR Carbon Wheels Welcomed as Proud New Sponsor of TriCoachGeorgia