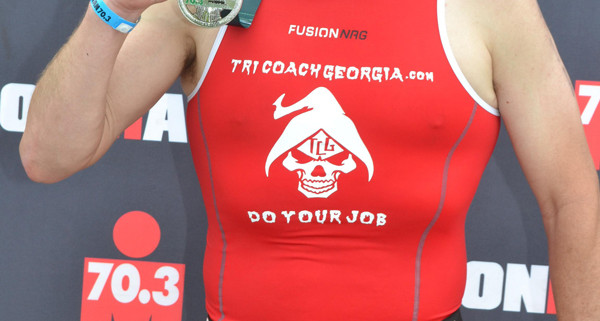 We chose to share this race report by RollingThunder aka Troy Garland because we believe that it illustrates the many variables that go into the lead up to and actual race of a first time half ironman.
This race was Ironman Chattanooga 70.3. The river swim lacked the current of the full Ironman there last Autumn. The bike had some slight challenges added and is described as rolling. A power meter was very helpful here. A challenging run course with some steep climbs amongst some flat stretches met the triathletes.
RT has been a model of consistency in training and he comes to us without prior coaching. He had done a few short course triathlons but wanted TriCoachGeorgia and Coach Slayer to take him to the next level.
In joining the team and taking on coaching, RT has lost significant weight, logged a ton of yards and miles, even coming in the top 50 overall in the USAT NCC Challenge. He has dropped his times at 5k through Marathon, as well as a PR in just about every triathlon he has attempted since starting coaching.
Please read this race report and let us know if you have any questions about the training required, the fueling or weight loss techniques we employed, or race strategy we employed. We hope it is informative:
Chattanooga, TN
Ironman 70.3
Total Time = 5:50:50 
Overall Rank =
Age Group = 40-44
Age Group Rank = 145/285
Pre Race
I arrived in Chattanooga on Friday, May 15 @ 6:30PM. Atlanta traffic prevented
the early packet pickup that I had planned. Checked into Choo Choo, and rode
down to Ironman Village to get a feel for the layout and parking situation. Silver
Diner (Choo Choo restaurant) pizza was for dinner then early to bed.
I ate a lite breakfast on Saturday morning at the hotel before heading to Ironman
Village. Arrived at packet pickup @ 9:15AM for a smooth check-in, chip
verification, and Tri Club check-in. Terminator (Dick) was exiting the village when
I arrived. We spoke briefly before I entered packet pickup. The transition area
was still being setup, so I examined the swim exit, bike exit, and run exit.
10:45AM practice swim in the river with wet suit. Water felt cool, perfect for a
wet suit swim. Swam upstream from swim exit to first bridge and back. Water
current was barely noticeable until swimming through the bridge opening. The
swim was about 15 minutes for @ 825 yds. Felt more confident about the swim
after the practice session. I headed back to the truck to put up the wet suit and
get on my bike. For lunch I grabbed a quick wrap sandwich and PowerAde Zero.
12:00PM started bike practice ride. Legs felt great and the bike was functioning
perfectly. Tried to follow the run course, but ended up getting frustrated with the
traffic and my lack of direction trying to follow the course. Never was able to get
into a steady training pace for any stretch. I punctured my rear tire on the wood
bridge returning to the Ironman Village area. No issues changing the tube or
airing the tire with CO2 cartridge, just considered it good practice that I hoped not
to need on race day. My 30 minute ride turned into an hour plus outing. Returned
back to truck to lock bike and change into running shoes.
1:15PM started the run by heading back toward the finish line before turning right
up the hill onto the run course. Legs felt really good, so I was constantly slowing
to keep my pace in check. The two mile run went by quickly and helped restore
the positive energy about the upcoming race. I checked my bike into transition
before heading back to Choo Choo to cleanup.
5:00PM Taco Mac for dinner with the Tri Coach Georgia crew. Love the TCGA
family for the support, advice, and helping relieve some of the pre-race nerves. I
had a grilled chicken and avocado sandwich with sweet potato fries plus chocolate
cake (thanks Slayer) to top off the fuel reserves before heading back to the hotel.
I packed tri bag and double checked gear, nutrition, and supplies before mixing
UCAN, water, and PowerAde Zero for bike and transition. In bed @ 11:00PM, but
did not sleep much.
Race day and I am up at 3:45AM to eat and triple check everything. Water, peanut
butter, crackers, UCAN bar are for breakfast. I eat as much as I can, but I am not
hungry as race day excitement and nerves build. I grab a bottle of water, load my
gear, check off everything on the list for the finial time, and leave for Chattanooga
70.3. Parking was quick, but the few dollars paid on Saturday had turned into $15
for event day parking.
5:00AM setup transition area, load hydration bottles, and check tire pressure on
bike before proceeding to the bus for swim start. Quick bathroom stop before
getting on the bus. Rode with Nasser on the bus across the river. It was good to
have someone familiar to talk with while waiting for go time. I ended up
somewhere in the middle of the swim start line. I should have taken shoes and
extra fluids to sip on while waiting on line. My race finally got underway @ 52
minutes after the pros started.
Swimming
00:38:02 | 2112 yards | 1:58 / M
Age Group: 211/285
Performance: Good, about what I expected
Suit: Xterra Vector Pro Blaze
Course: 200 yd up stream, right turn to middle of river, left turn to exit at
Ross's Landing Start type:
Water temp: 72
The water was cool when I jumped feet first into the river. It felt good
with a wet suit. The toes on my left foot cramped a little as I hit the
water, but worked out quickly as the swim started. I got into a good
steady pace as I followed buoys upstream to the first turn. The course
was crowded until we started on the downstream section of the course.
Continued to use the buoys to sight as I turned downstream to make my
way to the swim exit. The bridges were good reference points for
sighting, but still did not swim as straight as I needed. Left calf cramped
mildly about twenty minutes into the swim, but loosened-up after about a
minute of flexing my ankle. Things began to get tight again as I
approached the steps to exit the water. It was great to hear from the Tri
Coach Georgia crew as I exited the water and moved to transition. The wet
suit peelers were able to snatch my suit off with on quick pull as I had
managed to get it off my shoulders and arms. I felt god about the swim as
I made my way to transition. I did what I expected to do for the first leg.
I entered transition feeling good, warmed up, and ready for the bike.
T1
Time: 05:47
Performance: OK, slower than I wanted
The transition area was fairly congested as I made my way to the bike. I sat by
my bike, dried my feet, and put on socks and bike shoes. The race belt with bib
number, helmet, and sun glasses went on next as I got a shot of PowerAde. As I
grabbed my bike and started toward transition exit there was a traffic jam of
athletes trying to get on the course. Everyone ended up having to walk most of
the way to the mount line due to the congestion. As I exited transition I
immediately moved to the far right to an open area for a clean mount.
Biking
02:58:52 | 56 miles | 18.78 mile/hr
Split 25.9: 01:26:17 | 25.9 miles | 18.01 mile/hr
Split 56.0: 01:32:35 | 30.1 miles | 19.51 mile/hr
Age Group: 145/285
Overall: 1233/2214
Performance: Good, a little better than expected
Course: Rolling hills
Road: Mostly good asphalt roads with several very rough spot and
railroad crossings
Cadence: 80 avg / 104 max
I made it to the far right of the course to mount after crossing the line. The bike
was set in the proper gear to head out onto the bike course. The bike did not feel
right as I got started, so I stopped to check tires. It was just paranoia from the
flat tire I had the day before the race, since both tires were good to go. As I
started the climb up the first hill away from transition I realized that my Garmin
and power meter were not synced. It took me a couple of minutes to get my
watch squared away. A short distance into the ride the first of several bumpy
areas was traversed. I lost my gels, CO2 cartridges, and adapter when I hit the
bump too fast. The area looked like a used bike swap meet with all of the bottles
and other bike parts scattered on the pavement. I felt very good on the bike after
somewhat of a rough start. I worked to manage my power output on the hills. I
got passed a lot on the uphill and passed more on the downhill side. After
worrying about the "hilly" course leading up to the race, I thought the course was
fun and fast. The rain caused me to hold back on the faster downhill sections and
sharper curves. Car traffic caused slowdowns on several parts of the ride. I drank
water and UCAN (3 scoops), water, PowerAde zero mix during the ride. At the 2nd
aid station I got a few hits off of a bottle of orange Gatorade. The entire ride went
better than I expected. I managed to stay tucked in aero position the vast
majority or the ride, and my legs felt good. Looking back I feel that I could have
gone harder on the bike, but I was trying to play it smart in order to have a good
run. The ride into transition and dismount were uneventful. My plan to take a gel
at the end of the ride did not happen since I lost both gels early in the ride.
T2
Time: 04:07
Overall: OK, could have been a little quicker
Dismounted at the line and trotted with the bike into the transition area. The row
my bike rack was on was congested with several other bikes and athletes, so I
took a longer route around to get racked. The helmet and sunglasses were shed
as soon as my Shiv was secure. I sat down to remove my bike shoes, dry my feet
(wet from rain), put on dry socks, and put on my Hokas. I took another shot of
PowerAde before moving to the run start.
Running
02:04:03 | 13.1 miles | 9:28 min/mile
Split 2.7: 23:13 | 2.7 miles | 8:32 min/mile
Split 6.8: 35:20 | 4.1 miles | 8:43 min/mile
Split 8.9: 18:54 | 2.2 miles | 8:45 min/mile
Split 13.1: 46:36 | 4.2 miles | 11:10 min/mile
Age Group: 145/285
Overall: 903/2214
Performance: Good until cramping @ mile 10
Course: Rolling hills
The run started really good right out of transition. I got my run legs
under me quickly. The hill up from the river went smooth. It was great
seeing the Tri Coach Georgia tent and hearing all of the cheering as I
climbed the hill leaving the river. My pace over the first two miles was
much faster than I had planned, but my legs felt really good. Around mile
two I took a Gu gel with water and concentrated on getting my pace under
control. The first lap went according to plan with good pacing and a few
sips of water or Gatorade at each aid station. Hit another Gu at mile 7 aid
station. The sun came out from behind the clouds and the temperature
was starting to rise as I got into the second lap of the run course. Around
mile 8 my left hamstring started to tighten. I tried the cola at the mile 8
and mile 10 aid stations. The cola caused me to burp each time after
ingesting, and I could not tell that I received any benefit from drinking it.
Then both quads began to tighten-up around mile 9. Just past the mile 10
marker my left calf cramped. I walked / ran the last 3 miles of the race. I
caught up with Paul Corley around mile 11.5. He gave me some salt, but it
was way too late for this to help my cramping. I struggled
walking/jogging to the finish. Coach Slayer was waiting under the bridge
yelling as I headed down the hill to the finish line. I was extremely happy
to finish, but disappointed with the run. Should have had a sub 2 hour
half.
Post-race
Overall: I had a good race until cramps got me at the end of the run. I went into
the Chattanooga Half Ironman hoping to come in under 6 hours. I was shooting
for a sub 45 minute swim, a 3+ hour bike, and 2 hour run. Overall I
accomplished the main goal of finishing my first 70.3. I was mentally and
physically prepared for the challenge of the half distance. I think with a few
tweaks to my nutrition plan I can have an even better race at Augusta in the fall.
I stayed in Chattanooga Sunday night after the race. Ate dinner at Blue Plate
with some of the Tri Augusta members. Felt good the morning after other than
sore quads and extremely sore calf. Slept in and had a late breakfast buffet at
the Chattanooga Choo Choo Hotel. At 11:15AM I took in the Chattanooga
Lookouts minor league baseball game before driving home. Quads and calf were
much sorer on Tuesday two days after the race. By Saturday morning all of the
soreness had been worked out of my legs.
Mental exertion [1-5] 3 (Most of the mental exertion came from the unknowns
before the race)
Physical exertion [1-5] 4 (Hills and rising temperature on the run were the
biggest obstacles)
Evaluation
Course challenge: Moderate
Organized: Very well organized
Events on-time: Everything started as scheduled
Lots of volunteers: Plenty of volunteers all over the course
Plenty of drinks: Aid stations were well stocked
Post-race activities: Food spread was disappointing after the race
Race evaluation [1-5] 4
https://tricoachgeorgia.com/wp-content/uploads/2015/06/My-First-Half-Ironman-Experience-TriCoachGeorgia-06.jpg
900
600
Slayer
https://tricoachgeorgia.com/wp-content/uploads/2015/04/logo-300x138.png
Slayer
2015-06-05 15:51:45
2020-10-26 10:07:49
My First Half Ironman Experience – a detailed race report by RollingThunder – TriCoachGeorgia