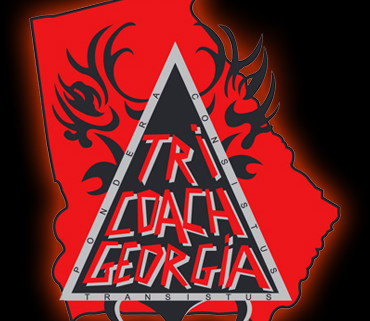 I've mentored and coached a lot of folks to their first triathlon. Some checked off the swim, bike, run from their bucket list and moved on to other adventures while some have kept racing and improving. Those that found triathlon was their sport are doing well and some are talking about longer races such as olys, halves and even the pinnacle of triathlon, a full 140.6.
I recently posted a comment in a Facebook group about getting to the finish line and the common denominator in all race distances being Commitment. In my post I mentioned how an ultradistance triathlon, 140.6, requires a huge commitment of time and resources from the athlete, but I didn't discuss the Commitment that the athlete's spouse, children, friends, parents, employer, their inner circle, would have to make as well. And, I'm not talking for a 140.6. This Commitment is required for any distance given the athletes experience, level of fitness and motivation.
The coaches at www.tricoachgeorgia.com have taken couch potatoes from the family room to their first sprint distance tri and beyond, and for these folks, the Commitment was the same as a veteran training for a full 140.6 because these newbies had not been active or away from the house except to work. Imagine the Commitment these couch potatoes and their families had to make when it was decided they were going to go for a swim after work instead of watching Dr. Oz. Plus, there was the financial Commitment of joining a pool and or gym. Life changes when that kind of decision is made and not just for the one making the decision.
Do you have what it takes? Is your Foundation solid? And, I'm not talking about your fitness Foundation. This quarter's issue of USA Triathlon from USAT references the parable of the house that was built on rock and another on sand. Is your house on a Foundation of rock so when you come in tired from a long build week and have to make decisions that don't favor your inner circle you aren't met with a sortie of poisonous darts fired your way? Some of us have used tri training as a way to escape the unpleasantness of life only to create more unpleasantness in other parts that were okay. Making the Commitment requires your inner circle to be in this with you 100%, and doing so, will give you that rock solid Foundation that will aid in supporting your house when in blow the storms of build, peak and taper weeks.
To ensure your Foundation is solid, having a Balance will aid you to survive the storm. It's important to remember that for most of us this is only a hobby and should be fun. For others, it's a way to get and stay healthy and health can't be achieved if one's focus is solely on training. A lack of Balance will bring down the house. Schedule your training around your inner circle. Include your inner circle in your training. And sometimes, skip training to nurture that inner circle.
Your Foundation will remain solid with the right Balance of base, build, intensity, peak, recovery and quality time with your inner circle and this will help you keep your COMMITMENT! Your coaches at www.tricoachgeorgia.com know a solid Foundation coupled with Balance will help you keep that Commitment!
Coach Spartacus
https://tricoachgeorgia.com/wp-content/uploads/2015/04/TCGA-logo.jpg
400
370
Spartacus
https://tricoachgeorgia.com/wp-content/uploads/2015/04/logo-300x138.png
Spartacus
2012-10-17 06:00:00
2015-04-30 20:05:12
Have you done it to do it?