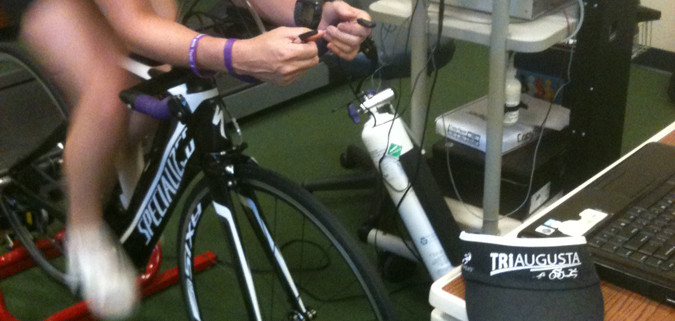 In my last blog I listed four thoughts to off season training. Today, I explain how you determine your heart rate training zones using a lab, a field test or just a little basic arithmetic.
PLEASE NOTE! DO NOT ATTEMPT MAXIMUM HEART RATE TESTING OR ANAEROBIC THRESHOLD TESTING WITHOUT BEING CLEARED BY YOUR MEDICAL PROFESSIONAL! THIS ARTICLE IS ABOUT HOW TESTING IS DONE AND HOW TRAINING ZONES ARE DETERMINED. PROCEED AT YOUR OWN RISK AND YOU DO SO VOLUNTARILY. THIS IS NOT AN ARTICLE INSTRUCTING ONE TO PROCEED WITHOUT PROPER MEDICAL SUPERVISION AND GUIDANCE.
You may be finding this article at the end of your triathlon season having trained all year without knowing your zones, you may know your zones or you may be brand new to zone based training. This article and the articles to follow apply to each of you as we are in the time of year that a large portion of your training should be focused on training in zone 2. I will explain why in my next article. For now, let's find your zone!
Before I get into ways to find your training zones, some terminology needs to be reviewed so we are all in agreement.
VO2 max – VO2 is an abbreviation for volume of oxygen. What it means to a physiologist, to you and to me (a coach) is it's the volume or amount of oxygen a person/athlete can use during a minute of activity/work. Endurance athletes produce energy using oxygen, and as intensity increases, the need for oxygen increases. There is an end point, a maximum, and this where energy production stops despite higher intensities because oxygen use is limited by the heart's blood pumping ability. When your max heart rate is reached you also are at your highest level of oxygen consumption. To keep it simple for training zone determination let's agree that VO2 max means maximum heart rate. The VO2 max is largely a fixed number based on genetics and cannot be increased very much through training.
Lactate Threshold – You may see this abbreviated as LT, AT, AnT or VT. This is also called anaerobic threshold or ventilatory threshold. When the body is making energy aerobically (using oxygen)during endurance training/racing the lactic acid produced inside the cell is converted to carbon dioxide and is removed through exhalation. This "threshold" is the point where the heart can't pump enough blood to the lungs so the athlete can't blow off the accumulating acid, carbon dioxide. This is the red line of endurance training and racing because aerobic energy production is switched to anaerobic energy production. Anaerobic energy production is less efficient and produces a lot of waste that is hard to metabolize so we want to be just below this threshold because going over it increases fatigue very rapidly. Unlike VO2 max, Anaerobic/ventilatory threshold can be increased with proper training.
Aerobic Threshold – If VO2 max is the pedal to the metal all out efforts and LT is slightly harder than a moderate effort, then the aerobic threshold, AeT, is a relatively low intensity level of training. This is zone 2 and the garage where BIG aerobic engines are built! Technically, this is the point where lactic acid is beginning to accumulate and you notice your breathing becomes a little deeper and maybe just two or three breaths more per minute. You will also notice an increase in body temperature and maybe a light sweat on your skin. When you notice this, hold that effort and stay there for the prescribed time. This is also the zone where metabolic efficiency training begins and that discussion is for another time.
Lab based testing for determining heart rate zones
Lab testing to determine your VO2 max, aerobic and anaerobic thresholds is done with a metabolic cart and can be done for running and cycling. This involves wearing a very tight fitting mask connected to a device that measures the volume of oxygen and carbon dioxide in your breaths and your heart rate through either a chest strap or electrodes. A computer program displays graphs of heart rate and ratios of oxygen (O2) and carbon dioxide (CO2) which represents metabolic activity. Heart rate is matched to changes in the ratios of O2 and CO2 and this is how your aerobic and anaerobic threshold zones are determined. Your VO2 max is determined at the point one reaches exhaustion. Once the heart rate thresholds and VO2 max are determined, these can be further distributed into zones 1 ‐ 5 or more depending on the different method of calculations such as the Friel method, the Coggan method or the Karvonen method etc.
Some labs measure blood lactate by analyzing drops of blood taken at intervals during the testing session. The blood lactate values are charted and compared to heart rates to establish the thresholds. Blood lactate measurement can be done conjunction with the metabolic cart or using a handheld device that analyzes the blood without the metabolic cart. Both provide nearly the same result.
Field based testing for determining heart rate zones
As mentioned above, there are handheld blood lactate analyzers that can be used outside of a lab to measure blood lactate to determine the anaerobic threshold. The aerobic threshold can also be closely approximated using the results and comparing the perceived exertion and ventilatory rate of the athlete. Once again the VO2 max , this time max heart rate, is determined at the point one reaches exhaustion.
An even simpler way to get an approximate anaerobic threshold is to do a 30 minute time trial.
This can be done for either cycling or running and can be done indoors or outdoors. If done outdoors, it is important to pick a route that is easily repeated and free from obstacles that could inhibit a nonstop 30 minute effort. All that is needed to perform this test is a heart rate monitor and stopwatch. To obtain threshold paces, one will need to use a gps enabled device for timing. Perform the test as follows:
Warm up 10‐15 minutes to get the heart above resting and the feeling of a light sweat then recover until the breathing returns to normal. Press start on the timing device and begin the test by running or cycling at as hard an effort as one can sustain for 30 minutes. Do not start out so fast that the effort cannot be maintained for 30 minutes. At the 10 minute mark, press the lap button and continue to run or ride until 30 minutes is reached. At 30 minutes, press the stop button. Review the data file and analyze the "lap" you created at the 10 minute mark. Take your average heart rate for that 20 min effort and that is roughly your anaerobic threshold. If this was a running test, look at the whole 30 minute data file and determine your average pace for the 30 min. This average pace is the threshold pace and one can set training zones using pace just like heart rate. These thresholds will become more accurate as one performs subsequent tests and learns pacing.
This same field test can also be used to determined one's cycling functional threshold power if a power meter is used during the test.
A swim test to determine your anaerobic threshold is also possible. Because most heart rate monitors do not work in the water, the swim test is a fixed distance time trial to determine your average 100 yard/meter pace. I will use yards and meters interchangeably in the article. There are several tests one can use determine threshold swim pace or Tpace. Here are two that are frequently used:
Warm up with 10 minutes of swimming to include drills, kicking and a few short, hard 25's or 50's. Cool down so your breathing returns to normal.
Option 1 ‐ 1000 time trial ‐ Have someone time you and keep up with your distance so you can focus on swimming as hard as possible and not try to remember your lap counts or waste time looking at your lap counter on your wrist or finger. When the person timing you tells you to begin, swim as hard as you can for the entire 1000. Don't start out too fast so that you have to slow or stop to recover mid test. The person timing you will stop you at the 1000 mark when they stop the timer. To determine your Tpace, take the total time for the 1000 and divide by 100. This will give you your average pace per 100.
Option 2 ‐ 3 x 300 on :30 rest interval time trial or 3 x 100 on :20 rest interval time trial ‐ These can be used if a 1000 straight swim is not yet possible due to a lack of swim fitness. Warm up as above then swim the intervals as fast as possible keeping in mind not go out so fast that the distance cannot be completed. It is best if all three intervals are within five seconds of one another and this may require adding a fourth interval. Sometimes the first interval is considerable faster than the subsequent intervals. Adding a fourth will allow dropping the first faster interval with leaving three intervals to average. Tpace is determined by averaging three intervals times. if using the 100 distance, average the three times to determine Tpace. If using the 300 distance, average the three intervals times and divide that time by three to get your 100 Tpace.
Arithmetic calculation for determining zones
There are many methods to mathematically calculate heart rate training zones. The focus of this series of articles is off season training and base or zone 2 training so I will explain one simple way to calculate your zone 2 that may be very close to your lab determined zone 2. This mathematical calculation was developed by Phil Maffetone and it is simply subtracting your age from 180 and further subtracting or adding five or ten points based on illnesses or fitness.
Since this article is most likely reaching folks with a bit of athleticism and fitness, let's simplify the calculation by subtracting one's age from 180 then further subtracting 5 to give a low end and adding five to give a high end. This will give a range of heart rates for the calculated zone 2.
Using a 35 year old as an example , the zone would be 180‐35=145. Subtract another 5, 145‐5= 140 and add another 5, 145+5=150 so the calculated zone 2 range is 140‐150. To learn more about the Maffetone method, visit here. To help guide your zone calculations, here is a chart for plotting your zones. Keep in mind cycling heart rate can be ten beats less than running due to the decreased physical effort cycling demands.
Heart Rate Zones for running and cycling
Running Zones
Zone 1 Less than 85% of LTHR
Zone 2 85% to 89% of LTHR
Zone 3 90% to 94% of LTHR
Zone 4 95% to 99% of LTHR
Zone 5a 100% to 102% of LTHR
Zone 5b 103% to 106% of LTHR
Zone 5c More than 106% of LTHR
Your Zones
less than_____
_____ ‐ _____
_____ ‐ _____
_____ ‐ _____
_____ ‐ _____
_____ ‐ _____
greater than_____
Cycling Zones
Zone 1 Less than 81% of LTHR
Zone 2 81% to 89% of LTHR
Zone 3 90% to 93% of LTHR
Zone 4 94% to 99% of LTHR
Zone 5a 100% to 102% of LTHR
Zone 5b 103% to 106% of LTHR
Zone 5c More than 106% of LTHR
Your Zones
less than_____
_____ ‐ _____
_____ ‐ _____
_____ ‐ _____
_____ ‐ _____
_____ ‐ _____
greater than_____
Power Zones for Cycling
Zone 1 Less than 55% of FTPw
Zone 2 55% to 74% of FTPw
Zone 3 75% to 89% of FTPw
Zone 4 90% to 104% of FTPw
Zone 5 105% to 120% of FTPw
Zone 6 More than 120% of FTPw
Your Zones
less than_____
_____ ‐ _____
_____ ‐ _____
_____ ‐ _____
_____ ‐ _____
greater than_____
Swim zones use Tpace plus or minus seconds of time. Tpace can also be thought of as race pace so your training sessions may be built around Tpace plus 5, 10 or even 15 seconds which is a slower effort or Tpace minus 5 or 10 seconds which would be fast sprint sets.
To summarize, there are many ways to determine heart rate training zones from the gold standard, elaborate lab tests to simple mathematical calculations. If you know your zones, great! Get to training in zone 2. If you don't know your zones, you now have the means to get started identifying them. First and foremost, determine zone 2 and get training in it. My next article will discuss the advantages of zone 2 training.
https://tricoachgeorgia.com/wp-content/uploads/2015/12/Find-Your-Zone-and-3-Ways-to-Do-It-by-Coach-Spartacus-–-Brian-Patterson-–-TriCoachGeorgia-01.jpg
900
675
Slayer
https://tricoachgeorgia.com/wp-content/uploads/2015/04/logo-300x138.png
Slayer
2015-12-09 13:49:04
2020-10-26 10:07:46
Find Your Zone and 3 Ways to Do It by Coach Spartacus – Brian Patterson – TriCoachGeorgia