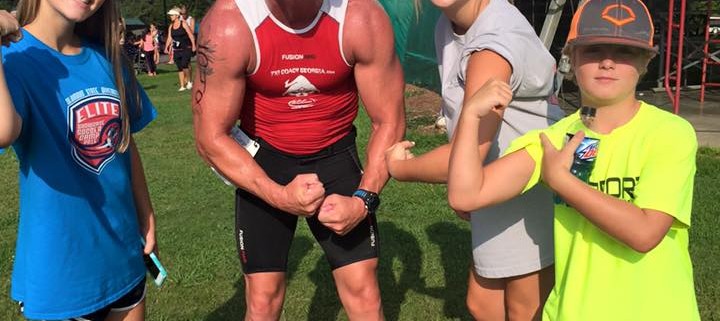 After another grueling week of training and recovering from last week's races, the Reapers of  TriKidsGeorgia  and  TriCoachGeorgia  moved on to whatever challenges faced them. All of our athletes have a lot to brag about so far. There's never enough time to capture it all but we sure do try!
Weekdays and nights are jam packed with swim meets for the youth. These TriKidsGa also practice bike and runs three times weekly under the supervision of Coach Slayer and parent and athlete assistant coaches. They've not let anything stand in the way of their progress as athletes.
Gruesome aka Lisa Harrigan headed out from Oklahoma to Kansas for the Tinman Short Course triathlon at Lake Shawnee. She entered from the Beach and followed a clockwise pattern for the swim course for the 400-yard course. Then she was challenged by the rolling terrain of Southeastern Shawnee County. There were beautiful countryside views and a tailwind on her way back into transition. Finally, she ran counterclockwise around the lake on the paved running path. This was a 3.1-mile out/back. She did awesome and took home 3rd in AG!
Xena flexed her leg muscles at a local road race. She took home 1st in AG in the Miles for Meals put on by Fleet Feet Savannah. The conditions were stupid for this race, but Xena managed to overcome and do her job.
Coaches BigBad and Slayer led the first of three Tri To Beat Cancer training clinics at Sandy Creek Park. Many attended and the feedback was uniformly positive. There will be two more of these clinics before the race.
The Northeast Georgia Cancer Foundation and Tri Coach Georgia are teaming up to once again offer FREE transition clinics and open water swim practices for this popular race in Athens, Ga. Participants received good on course exposure and were well pleased with the free coaching and training plans. Optional runs and bikes were offered.  This clinic began with an informal talk, where questions and concerns were addressed. We then proceeded to practice what we've taught. Equipment, safety and technique were covered to help participants get comfortable with triathlon challenges. Come and join us in July and August!
Later in the day, Coach BigBad hit up the Georgia State Cycling Road-Racing  Championships and nudged  himself to the overall podium! According to the their website, the GCS brings the best events in Georgia together for a year-long points competition. The events offer a varied group of races with great venues, community support, prize money and racing competition.
Alan W. of Watkinsville Jittery Joe's also banged out another Go Ruck Challenge with one of the TriKidsGeorgia Dads, Marcus W. They were up to their usual hi-jinx there. If you haven't seen this new form of misery, go check them out.
Enthusiasm is key for Keaton of the TriKidsGeorgia. He drove from Atlanta to compete with Hoss aka Bradley Odom in the Jacksonville, FL Sprint Triathlon Series. The swim was a 1/4 mile in the Atlantic Ocean, with the bike and out and back on the flat coastline of scenic Amelia Island. The run finished up with 3 miles out and back through the North Fletcher island community. Results were as expected, stellar with another 1st in AG for Keaton and Hoss digging deep to show #NoQuit!
In addition, our young stud Cullen and his younger counter part 13 year old Lauren Benedict went to Monroe, WA this weekend to re-qualify for his third and qualify for her first National Championship respectively. "TriMonroe is one of four venues that offers athletes between the ages of 13 and 19 the chance to race in the Elite draft-legal format and earn a spot on the starting line of the USAT Youth Elite or Junior Elite National Championships." Both performances were pretty amazing considering all the travel it took for him to get to and from there from his adopted home at Cal-Polytechnic, where he is on their Triathlon team, and for her from the Southeast. Both qualified for nationals in their respective divisions!
Sunday started with a roster in South Florida with Coach Cube of tricoachflorida.com. He was leading his AG at the Multi-Race Olympic Triathlon Series until late in the run and ended up second despite a lack of quality training time as he moved homes. Still, it was a great showing and top notch performance in the sweltering heat!
Over at Callaway Tri, new coached athlete Hacksaw aka Trey Sawtelle busted loose and finally broke the 50 mins barrier after 11 years, good enough for 2nd AG and a top overall placing percentage. He was joined by Tom from #TeamHargrove, who banged out a 2nd AG, and TriKidGeorgia Mom and Daughter Lindley aka Fred who dropped 8 mins off her time. Also there was Social D aka Danielle Cheek and hubby Mad Dawg and their son Hammer aka Haden and a host of other friends of the team.
This highly successful Sprint Triathlon, now in its ninth year, featured a 1/4-mile swim around Robin Lake in four to five feet of water (or less, closer to the shore); a 9-mile bike along nine miles of gently rolling terrain and a 2-mile run along Robin Lake Circle. The easy and scenic course is popular among beginning triathletes.
Finally, the team boasted the two Horses, IronHorse aka Reuben Adams and DarkHorse aka Angela Adams on the grueling Ragnar Relay in some ridiculous terrain and muddy conditions. Their team came through for their leader Dani of Total Training Center in Athens Georgia on her 50th birthday. Both suffered and learned a lot!
As you can see, the team just keeps steamrolling through the season. Athletes of all ages are smiling and busting PR's, qualifiers, and podiums wherever they go. We can't wait to see how the rest of the year goes. Thanks for reading and contact us if you are one of the many who are interested in, or who have already expressed interest in, joining up. We would be glad to provide you with references from past and present athletes.
https://tricoachgeorgia.com/wp-content/uploads/2015/06/Fathers-Day-2015-TriCoachGeorgia-14.jpg
960
720
Slayer
https://tricoachgeorgia.com/wp-content/uploads/2015/04/logo-300x138.png
Slayer
2015-06-22 17:08:26
2020-10-26 10:07:49
Father's Day 2015 – TriCoachGeorgia