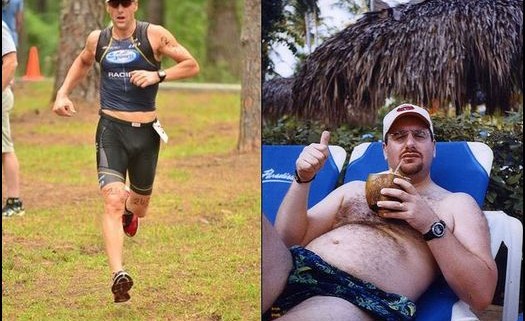 As a former lardass who fights the battle of the bulge, almost daily I get asked how I maintained the weight loss for over 12 years now. I probably get asked this a lot because of my before and after pictures on the internet that show up often paired with the fact that I went from a decent Clydesdale to a lean and mean world championship qualifier in 2014 with a PR of 4:26 at the 70.3 distance.
There is something curious to the vast majority of triathletes about not having to carry around an extra xx amount of lbs of race weight. For me, this meant all the difference for my race times.
So this is not a mini-blog on how I went from 300 to sub 200 lbs. That was done adopting a low carb lifestyle via Atkins.com. I maintained it too using the program by and large but as my training patterns increased so did my needs for carbs. Therefore, I used conventional wisdom with fast carb vs slow carb approaches and the weight gain returned despite 20+ hours of training per week. This weight gain was depressing so I had to find a way to manage fueling without gaining.
That is when, at a USA triathlon coaching education conference, I found nutritionist Bob Seebohar and his concept of Metabolic Efficiency which tailors the carb input to the training demands. I also learned about a revolutionary new product, Generation Ucan, The weight dropped off again and my performance gains were substantial.
This blog is being written to address my ways of keeping the weight off not how to lose it. In the context of proper training for the distance race you are doing, keeping lean often means going faster and getting done sooner!
Before I begin, I should mention I am a licensed psychologist at work and a certified triathlon coach; I am not a nutritionist. I am one of you that seems to have figured out my demons. You may not agree with these steps but these do it for me. Also, before trying any of these, you should consult with your doctor to make sure you do not have a metabolic condition that is part of your problem.
8 Ways to Lose Weight and Maintain Triathlon Fitness Shape
1. As noted above, one should review and try slower carb approaches (like Generation Ucan) to fueling and go easy on recovery refueling and over celebrating race finishes. Some athletes go way overboard pre-, during, and post training and racing and don't realize the body has 2-3 hours of glycogen stores at any point in time for moderate exercise.
2. Weigh Daily so you can understand your own body's fluctuations and modify accordingly. I have formal weigh-ins twice a week on critical days (Monday and Friday) too that get reported to my social support system discussed next.
3 . Find a social support system that will help hold you accountable. Use the support system or get mental help if you go into a bad roll. I have a support group that I moderate and participate in called the Lardasses. No matter how hard it is to report increases, it forces us to all be honest so we can face down our eating demons.
4. If you slip up, keep a marker which you won't pass (maximum density). Most plans allow some cheats. The key is stopping the downward spiral before it gets too late. For me, if I ever get to 210 lbs. I jump on the induction phase of Atkins.
5. Clean out the kitchen and refill it with healthier stuff. Avoid sugary products like sodas and junk food. People often have no idea what the net carbs are in these products and others that are sugary like fruits and fruit juices, brown breads, etc.
6. Limit and avoid the gateway drugs like alcohol. These reduce your inhibitions or control over what you take in.
7. Train more frequently. Extra volume will lean you out and help prepare you for races. For example, short runs at night really help the scale and reduce hunger and time in the kitchen where you can raid the pantry.
8. Keep good snacks and water nearby. I love my protein bars, healthy nuts, cheese sticks and deli meats nearby.
There may be more things I do to keep weight off but it is my hope that these suggestions might help you lean up and continue to race well. This is the biggest bang for the buck for most people in terms of race times. In other words, weight loss translates well at minimal cost and often more rapid than training effects. Once it's off, you have to figure out how to keep it off! Thanks for reading and get back to me with any questions.
https://tricoachgeorgia.com/wp-content/uploads/2015/08/Coach-Slayer's-Weight-Loss-Maintenance-Tips-TriCoachGeorgia-01.jpg
403
525
Slayer
https://tricoachgeorgia.com/wp-content/uploads/2015/04/logo-300x138.png
Slayer
2015-08-14 15:34:14
2020-10-26 10:07:48
Coach Slayer's Weight Loss Maintenance Tips – TriCoachGeorgia